Polymerization Methods - develop new biodegradables bio-based polymers
The main objective of this activity is to develop new biodegradables bio-based polymers based on natural raw material as potential substitutes of petroleum based polymers. During this process the synthesis of polyesters with similar properties to polyolefin will be optimised by liquid synthesis and by reactive extrusion process at laboratory scale as well as at pilot plant scale.
According to the latest data, the European and American biopolymer market is experiencing huge growth, which is expected to continue in the near future, majorly driven by these highly growing regions and intense focus towards industrial expansions. In this line, our objective in BioREFINE-2G is to prepare bio-polyesters from dicarboxylic acids which have been obtained from genetic engineered yeast. The bio-polyesters are then converted into commercially interesting products, such as polyurethane dispersions (PUDs) and thermoplastic polyurethanes (TPUs) used as adhesives and coatings, and polylactide(PLA)-copolymers, which can be used as biodegradable packaging plastics. Different synthetic routes are studied and the feasibility to transfer the synthesis to a continuous reaction extrusion process is tested and mathematically simulated.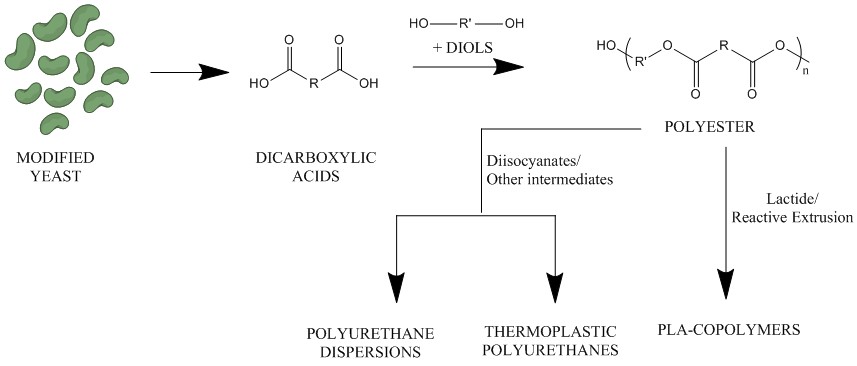 Results
We have prepared bio-polyesters of different molecular weight by adjusting parameters such as temperature, pressure, reaction time and type of catalyst.
We have developed bio-polyesters using lipases as catalyst in order to perform the reactions at lower temperatures and achieve more environmentally friendly processes.
We have successfully scaled up the process by reactive extrusion.
We have converted the bio-polyesters into commercially relevant products, such as PUDs, TPUs and PLA-copolymers as potential bio-adhesives and bio-plastics for packaging.